Sound is as important to whales as vision is to us.  Sound travels farther in the ocean than light does — so whales and dolphins grunt, call, click or sing, or listen intently, and their lives depend on sending and receiving these acoustic cues reliably.  They're quite good at it.  Whales and their prey have evolved these acoustic systems over millennia.  The problem is that in the last hundred years or so, we have started competing with whales for acoustic space by using ships and conducting other activities that create a lot of underwater noise (mostly unintentionally).  So a whale singing in a noisy habitat is like having a great cell phone that relies on a terrible network provider.  Unfortunately for whales, fish, squid and other marine life, the consequences of a "dropped call" are more serious than they are for us.  If human activities jam whale acoustic signals, the information lost is not trivial.  We suspect that the acoustic information being transmitted is of the kind:  "There is a predator just around the corner."  Or, "Eat this fish.  It may be the last one you see for days." Or, "Mate with me." You don't want to miss these calls.
"In the spring, at the end of the day, you should smell like dirt."
― Margaret Atwood, Bluebeard's Egg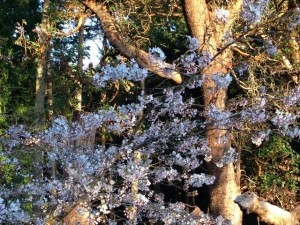 It's officially spring!  Cherry blossoms are a sure sign that spring has sprung in the Pacific Northwest.  But for Pacific white-sided dolphins, spring means herring.  Each spring, Pacific herring find their way to inlets and coastal areas to spawn, laying tens of thousands of eggs.  This dramatic event attracts birds, sea lions, and dolphins.  We were lucky enough to capture footage of Pacific white-sided dolphins working together to corral herring.  Dolphins require a quiet ocean to both to find their prey and to avoid predators like killer whales.  Stay tuned for the results of our investigation to assess which areas along the BC coast are quietest for dolphins.  Hope you enjoy!