You love the ocean, we love the ocean.  Let's save it together.  Here's how you can help.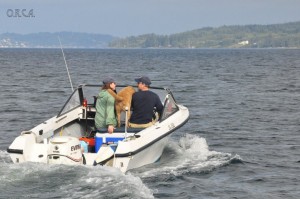 Oceans Initiative relies on donations from supporters like you to do the ocean conservation work that we do.   We are an efficient, agile team that makes the most of every contribution from individual donors and foundations.  Oceans Initiative is a project of Tides Canada, a registered charity that provides governance for small groups like ours, so we do not need a big administrative team.  This means we get to keep our overhead costs low, so more of your donations go directly to support our work.  Have questions about tax receipts?  Let us know!  Some of the best ways to help don't cost a thing, so please scroll down to learn how.  
Here are examples of what a donation from you will support:
$10 kickstarts a day in the field with a bag of coffee
$25 buys a set of rechargeable batteries to keep our hydrophone singing 
$50 supplies a flash card to record whale & dolphin calls
$100 gets us a tank of gas to spend a day on the water photographing dolphins
$500 allows us to travel to a conference or workshop to present our results and keep current on the state of the art in our field

But there are lots of ways to support our work on whales and dolphins.
Love shopping?  Check out our Amazon wish lists in Canada and the US.  
We take photos of whales and dolphins for photo-identification on a donated camera, and our boat runs on a clean, quiet E-tec engine from Evinrude.  One of our biggest expenses is air travel, either to do fieldwork or to attend conferences and meetings.  Have frequent flyer points that are gathering dust? Learn more about donating Aeroplan miles to support our whale and dolphin research.

Wanna make Wishart the dolphin dog's tail wag? Here are some of his favourite treats and toys.
Looking for a more personal way to help?  Leave a comment on our blog, subscribe to our newsletter, like us on Facebook, follow us on Twitter and Pinterest.  We love hearing from you.  And your support matters a lot:  some foundations now evaluate an organization's social media reach when making funding decisions.  
Thank you very much for your support!